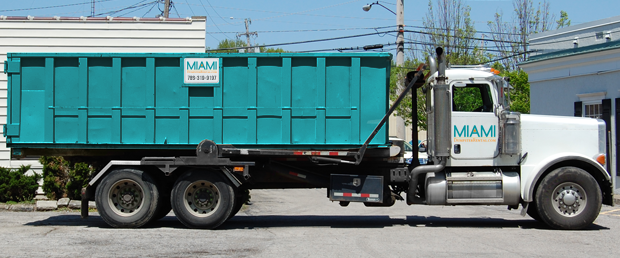 Miami Dumpster Rental has set the industry standard of waste removal. We are constantly evolving our methods to provide the most effective waste removal experience to our valued customers. We will do everything our power to accomplish the ultimate goal of becoming free of waste. The rewarding process of waste removal begins with you contacting Miami Dumpster Rental.
Upon calling, you will be received by the best customer service department in the business. They have extensive industry knowledge that they would enjoy sharing with any potential customers. Our customer service representatives can answer any possible question and alleviate any concern about renting a roll off dumpster. On a daily basis these talented individuals accurately estimate amounts of waste and set customers up with the most effective solution for their waste removal project.
Our experienced haulers will be out to your location to properly place the dumpster rental on your property. Miami Dumpster Rental can position a rental to maximize the productivity of your project. These same haulers play a major role in the proper disposal of your unwanted materials. A superior level of service continues throughout our waste removal process.
Save Time and Money by Renting a Roll off Dumpster!
We will handle the entire waste disposal for our customers.
For customer's convenience, our prices at set at a flat rate to avoid any hidden fees.
Unfortunately, we do not accept any form of hazardous materials in our containers.
Our customers can use our roll off dumpster rentals for as much time as they need.
Miami Dumpster Rental has never lost a battle against waste.
We are ready to deliver an efficient roll off dumpster rental to your location in the Miami area. Living with waste is not only unhealthy but also very difficult to remain productive. Our customers are able to receive many benefits by utilizing our services to become free of waste. Maybe the most important benefits are that our customers are able to effectively manage the waste that they create moving forward.
However if your waste builds up again, Miami Dumpster Rental would be happy to provide service to your location. This is a main reason why we do not limit how many dumpsters a customer can rent at a single time. Miami Dumpster Rental also offers empty and return services, which allow customers to complete any size project with minimal downtime.
After all your trash is inside the container, Miami Dumpster Rental will promptly return to your location to retrieve the dumpster rental. We then dispose all waste in accordance to every government regulation and adhere to our own high standard for environmental safety. Miami Dumpster Rental is truly a professional service and takes the proper disposal of waste very seriously.
Contact Miami Dumpster Rental to start removing your unwanted materials from your location. We will make this an extremely easy process for you, which will end up with your home or business becoming waste free. It is time for you to contact Miami Dumpster Rental.